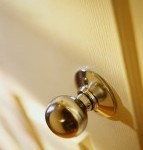 written by: Mike Gosser
DOORS, DOORS, DOORS! Is there any real difference between interior doors? Read below and you decide.
I will discuss the three different types of interior doors. The three different types are: hollow core doors, solid core doors that have a wood veneer over a solid wood blocking or a MDF core (medium density fiberboard), and a solid, real wood door. The real wood doors can be any species of wood, such as, poplar, maple, oak or a primed door. All interior doors are usually 1 3/8″ in thickness. So what are the differences?
1. HOLLOW CORE – This type of door is basically a catacomb of cardboard with a thin rail around the perimeter and a thin veneer sheath wrapped on both sides. It is very light in weight and is available in many styles and wood species. This is also the least expensive type of door.
2. A SOLID WOOD BLOCKING DOOR – With a wood veneer, is exactly as it sounds. This type of door is the most common. This is a solid wood door but has a wood blocking or a MDF within the door, which is wrapped with a wood veneer. This door has some weight and cannot have a hole punctured into it, as a hollow core door can. It also is available in a variety of styles and wood species. The cost is not much more than a hollow core and is well worth buying.
3. SOLID WOOD DOOR – Last but not least, is a solid real wood door. This type of door has no core. The mill takes solid pieces of wood and will fabricate different styles (with the wood species of your choice). In recent years, mills have started using cheaper woods to make up the door and install a wood veneer (of your wood choice) over it, to control the cost and help reduce the impact on the environment. I believe this is sometimes a good option. This door is usually the most expensive and lasts the longest.
Next week I will discuss exterior doors.