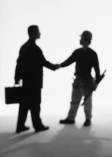 written by: Mike Gosser
Picking the right contractor is not all that easy unless you happen to get lucky.  The rule of thumb is to get three estimates. Throw out the highest and lowest bids and go with the middle guy. Continue your research and look for flags. For example, how the contractor presents him or herself when meeting with you. Ask yourself, is he/she well-mannered and a have a clean appearance? Don't  forget, he/she is the professional, therefore the pertinent information should come from him/her.
Another question to think about is, does he/she provide a schedule with time limits, such as, the duration of the job and what sub-contractors to expect and when? Keep in mind, everyone should provide protection to your home and clean up at the end of each day. I believe the cleanliness and organization of the job site is a direct reflection of the quality of his/her work.
Contracts should be well spelled out. All the operations should be included, such as any material allowances. This allows you to know how much to spend and whether to expect an extra fee or credit depending upon your allowance purchase. Substitutions should never be allowed unless agreed to in writing. An experienced contractor should always be available to help with the design part of the project, if needed. Why not tap upon the source of experience, which hopefully should include many design ideas he/she  has been exposed to.
At the end of the job make sure you make a punch list, a list of unfinished details, and review it with him/her before making the final payment.
Your contracting experience should always be a pleasant one. As your project comes to a completion, you should be very excited  and enjoy it for many years to come. Having a positive experience,  can provide a relationship for future work and/or advice
Next week I will talk about contracts.