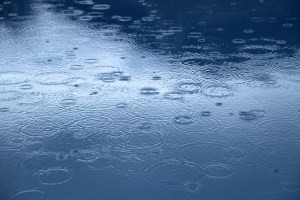 written by: Mike Gosser
FYI – You have two concerns regarding hard rains.
1. Always make sure gutters have been cleaned out after the last of the leaf droppings, especially if you have numerous trees close to your house. Downspouts should be cleared as well. It does not make much sense if gutters are cleared but downspouts are not. Water needs to move away from the house otherwise you raise the chances of moisture and water causing damage. If the water is not properly moving away from the house it shows up by either water getting into the basement, cracking and or water stains on ceilings. If water does infiltrate into your walls it can cause wet insulation, mold and rotten wood.
2. The other concern is your chimney condition. The chimney cap, is the very top portion of the chimney, usually its a concrete looking block. This is what protects the chimney's face brick. The face brick cannot absorb too much moisture or it will start to break down. Therefore, it is very important that the cap is in good shape to protect your chimney brick and chimney. It is less costly to replace the cap, than the entire chimney down to the roof line. You can tell if your cap is leaking if you notice a lot of water always on your face brick of the chimney, after a rain, or if you see spaulding on the chimney brick. Spaulding is when the face of the brick starts to fall off.
I hope this helps in protecting your home and your investment.