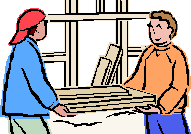 "A LITTLE HELP"
written by: Mike Gosser
As a premier remodeling contractor, I have been building for over 35 years on the North Shore. And from this experience my company, Gosser Construction, offers,  like so many other remodeling companies, a design/ build service. In case you don't know what a design/build service is let me explain, but first I want to mention one other service I offer that most other companies don't. This third service,  "A LITTLE HELP," is an unique way to let the homeowner do the work with professional supervision and guidance. I offer this option because not only do I understand affordability but I enjoy helping others and teaching the trade.
When you are thinking of building a room addition, putting in a new kitchen and/or bath, there are usually a few different ways you can approach your project.
Option 1. Hire an architect to develop drawings, put the project out to bid and  hope the bids come near your scheduled budget (can be risky).
Option 2. Hire a construction company to design your project with budgeting being reviewed as part of the developmental process to ensure you stay within your budget. This is what design/build is called. Regardless which option you choose, you should at the end of the day own your plans. One other important side note, you don't always need to pay for or even develop plans for all of your projects, which is very common for kitchens, bathrooms and almost always repairs.
Option 3. I offer and like this third option the most,  "A LITTLE HELP." This may be a good option or fit for the right do-it -yourselfers.  Listed below is a brief summary on how this option works. This can be a very minimalist involvement from the homeowner depending on how much input you need or want!
1. We will propose, a preset hourly rate for a field experienced supervisor, that has a minimal of ten years field experience in Residential Remodeling.
2. We offer at a predetermined price to design, along with all necessary notes to develop drawings. Most repairs and many remodeling operations don't even need any design work. Sometimes a detail explanation of notes are sufficient.
3. Once the design is complete and the scope of the project is understood and documented, a schedule is developed. This will also indicate hours that the supervisor will need to help you complete your project as documented.
4. Along will field supervision and instructions, we will show you how to you calculate your materials, purchase or rent tools, and how to use them correctly. As well as help with material selections, selecting sub-contractors, if needed, and even help oversee their contracts. Note- We do have very reputable list of sub-contractors that we have used and have depended on for decades. They are all very professional and courteous.
For further details:
Call – Mike Gosser  847-322-2059
www.GosserConstruction.com   website and Blog
Please view us on our website or Facebook:
https://www.facebook.com/gosserconstruction